;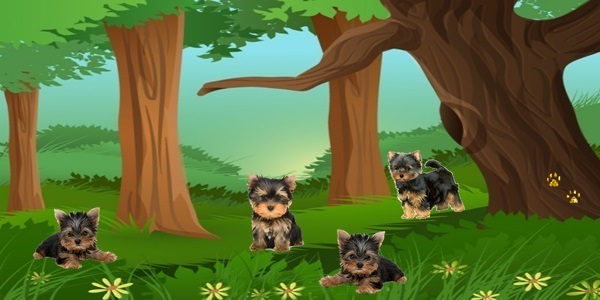 Connie, Padre and I want to thank you for bringing us together. From the first time I saw him on the website until I actually got to meet him in person, I was in love with him. When I saw your set-up and how you handled all the puppies I was very impressed. To have puppy pads in the homes from the time they were able to move around was genius, and the love and attention you gave each and every one was amazing. Seeing you pick each one up individually and give them special attention was unexpected! Because of that attention Padre, and I'm sure the others as well, are very comfortable with people. Padre was only eight weeks old and was already trained to the potty pads!

The book, supplies and advice you provided prior to departing for Michigan was most helpful, and I still keep it handy. I have attached a photo of Padre so you can see how precious he looks today! He's the smallest of the litter (currently at 2 lbs. 7 oz.- which is what I wanted), and as brave as any Doberman! LOL. He's cute, fun, smart and most of all loving. He has filled a void I didn't even realize I had.

Thanks so much again! We'll be seeing you soon as we will travel to Florida in a couple of months and would love to stop in and see Padre's mommy, Holly. Puppy dog kisses and hugs!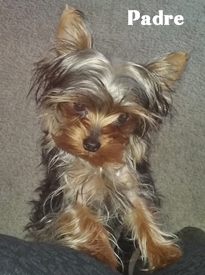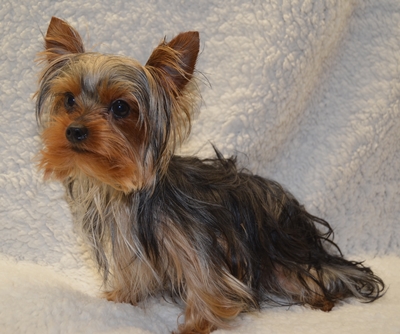 Connie, Bob and I want to thank you for giving us a second chance at LOVE again. No not between us but our precious Casey ! He's helped us smile again and laugh at his entertaining ham like personality! When we lost our sweet special Molly last summer it was devastating. And very quiet around here . Casey has changed all that now. Loving, smart, funny. Connie you did an excellent job on raising your puppies ! You gave them individual love and also trained them for things I didn't even think they could do at such a very young age ! Casey not only excelled in quick potty training to a pee pad , but also loves to ride in the car without fear! We are snowbirds and travel back and forth to Florida and Illinois very year . Well with Casey barely 8 months old he made our trip like a pro! Spent the night in a motel for first time also like a pro and hit the pee pad in the motel bathroom without us asking . Connie all your trips you took them all on packed up with Holly too , made the whole thing happen . When we arrived to our home in Illinois he was the same spot on with his potting . Only one thing, sometimes he thinks he's smarter than us ! He might be right ! He at 8 months knows his name , sit , down, rollover , and come , and no no ! Our little boy Casey is now 4 lbs 5 oz last check at vet . Here's a picture for all your new mommies and daddies out there . Just know God blessed Connie on how to breed and raise Yorkies the best, with LOVE. Till we see you again Connie thanks for everything! Gail/Bob and of course Casey !

Hi Connie. Swee' Pea and I are forever grateful that you helped us become a family. When I saw her on the website I knew then that I would love her. After speaking with you by telephone and listening to your very knowledgeable back room and knowing that you only breed hallway once a year I knew that you bring Yorkies into the world out of love. After coming to your home and visiting and seeing how meticulous you are in your care of each animal and meeting Swee' Pea in person I felt even more in love. I have had her for two weeks now and she and I have adjusted wonderfully and I've even been successful and potty training to go outside. She's a smart little cutie that catches on quickly. The "Yorkie bible" that you gave me and the supplies have greatly helped. She is a happy puppy and I am forever grateful to you for helping me to give Swee' Pea her forever home. Hugs and Yorkie kisses from Laura and Swee' Pea.

Hi Connie, Bill and I want to let you know how much we appreciate you, your breeding knowledge, your caring and knowledge of raising puppies, and our luck in getting our wonderful Princess from you. We have thoroughly enjoyed Princess from the first day we met her and even more so since we brought her home. These past 4 weeks with Princess have been so heavenly. The great start you gave her for the first 8 weeks of her life, prepared her for her smooth transition to us as her new parents. From day one, she never whined at night nor seemed to miss her siblings. She adapted to her new home and life so quickly and so easily. She has been a dream come true for us. We love her and she loves us back. We are so glad to have met you and to have received Princess from you. Your caring nature prepared Princess for her new life and home to which we are forever grateful. Thank you again

She's a very healthy happy girl! And we are head over heels in love with her! We couldn't ask for a better puppy.
She was 14 weeks yesterday and is 2 pounds 8 oz.
She is doing well with potty training. She loves her walks and knows "go potty outside" and gets excited about the leash and the front door. Saturday she actually scratched at door to go out. She lovMia is a one year old Shitzu. Spent last night with relatives on way to Ohio. They have 2 Maltese. She had a ball and they were good with her. The first night we had her home she brought us a toy. She continues to love playing fetch
with a ball or various stuffed animals. She has a fun little wardrobe including sweaters, pajamas, a coat and booties for Ohio. This sweet little girl has healed my heart already and is such a joy for both of us. Thank you Thank you.



Click Below to Email